Dr. Mark Otieno Profile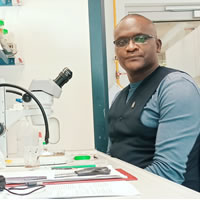 Name: Dr. Mark Otieno
Title/Qualification: PhD
Position: Senior Lecturer
Department: Water and Agricultural Resource Management
School:   Agriculture
Area of Specialization:  Agroecology, agroecosystem management, pollination biology and natural pest regulation
Contact Address: P.O. Box 6-60100, Embu, Kenya
E-Mail:
Google Scholar Account - Link
Short Biography
Dr. Mark Otieno is an educator in agroecology and insect sciences with a passion for research on the drivers of arthropod mediated ecosystem services in farmlands and natural systems. He completed his PhD at the University of Reading, UK, under a Felix Scholarship. Having studied Animal Ecology at Kenyatta University, Kenya and writing his MSc thesis on Acacia pollination funded by the Tropical Biology Association, Dr. Otieno gained experience in a wide range conservation projects, notably an EU/USAID project promoting wildlife conservation through ecotourism in Kenya as well as pollination research.
Between 2019 and 2021, he held a prestigious position as a Georg Forster Experienced Research Fellow of the Alexander von Humboldt Foundation at the Julius Maximilian University of Würzburg, Germany.
Before joining the University of Embu, Dr. Otieno undertook postdoctoral research on crop pollination under the Integrated Crop Pollination project at Pennsylvania State University, USA. Prior to that, he worked as a Specialist Training Workshop Coordinator for the Tropical Biology Association running workshops on communicating scientific results, scientific publishing, effective teaching strategies and designing environmental research projects in the field across many countries in Africa and Madagascar.
Research Interests
Dr. Otieno's research interest is in insect mediated ecosystem services and the promotion of agroecological practices in achieving sustainable food production and livelihoods. He is currently undertaking several research projects in tropical Africa under the same research theme with collaborators from Europe and South America.