Charles Andrew Nyambane Onyari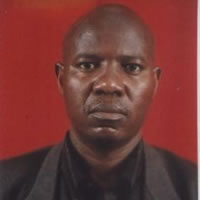 Name: Charles Andrew Nyambane Onyari
Title/Qualification: Dr. / Doctorate (PhD) in Agronomy
Position: Lecturer and Director, University Examinations
Department: Water and Agricultural Resources Management / Directorate of University Examinations
School: Agriculture
Area of Specialization: Agronomy, Crop Production Modeling, Soil and Water Management, Agrometeorology, EIA/A Expert
Contact Address:  P.O. Box 6 – 60100, EMBU
Email: This email address is being protected from spambots. You need JavaScript enabled to view it., This email address is being protected from spambots. You need JavaScript enabled to view it.
Short Bibliography
Trained agriculturist and teacher with background in agricultural engineering, agronomy (crop science), and postgraduate education. I am married with a family, sociable, a team player and focused on results.
Research Interests
My research interests are in crop growth/yield modelling, soil and water management, soil fertility, dryland farming, biometrics and environmental impact assessment/audit.
Work Experience
1990-1997: Secondary School Teacher (Nyamira). 1997-2000: Agriculture/Irrigation Officer (Mandera). 2000-2003: Technology Development/Testing Engineer (ATDC – Nakuru). 2003-2008: Deputy DAO/Extension Training Officer (Kirinyaga). 2008-2012: Principal Lecturer / HoD (EAST College, Embu. 2012-2013: Deputy Principal (KSA – Nyeri). 2013-2018: Assistant Lecturer (UoEm). 2018 – Date: Lecturer (UoEm).